We knew this house was going to need some elbow grease when we moved in. That was fine –  I was willing to do the work and Josh was willing to suffer manfully through my construction-induced funks. And if the price was right and the only real issues were some pink and mint-green in the bathrooms, does that really matter in the long run?
Well… I tell myself that house style doesn't matter, but then I sigh dreamily over Martha Stewart magazines. So perhaps it's not surprising that it was an old Martha Stewart article on pergolas and patios that finally gave me my inspiration for the sunroom.
The sunroom on our first tour of the house.
This room has been confusing for me since day 1. It's not properly a sunroom since it's always in shade; it can't be used as a greenhouse because it stays about the same temperature as the outside. The limp blinds and listless colors have always put this whole room at the back of my list because where do you even start? Nicer furniture ain't gonna make up for a square aluminum room.
And I really want to love the sunporch. But its blahness and austerity have confused me to the point where I would just shake my head when Josh asked me what we should do with it. It became the place we stored the hand-me-down furniture we couldn't quite bear to Freecycle; the last place to get vacuumed; the place we dumped the extension cords and pool chemicals on our way back into the house.
It takes inspiration to fix all that, I guess.
I googled and googled, but couldn't find an online version of the actual photo that inspired me (that one I saw while reviewing the binder where I cut out and keep ideas from craft magazines). These are somewhat along the same lines, though.
A rough, natural, patio floor. A central piece of lighting. Relaxed furniture. Casual, billowy textiles. Plants on many levels. Strong overhead horizontals.
Well, there's no reason I can't mimic those principals. Here's the plan:
1) Sack the insipid carpet and replace it with some slate, brick, or handmade terracotta tiles like these below. No mortar, they'll be dry-laid directly on top of the (oh-so-conveniently already level) concrete slab and the spaces will be filled in with gravel or sand, just like when we made our patio at the old townhouse.
2) Ditch the boring blinds – which we haven't used in over a year! – and hang some drapey sheer lineny swags to soften up all those sharp edges.
3) Replace the light fixture with more character and whimsy. I really like the star in that first photo I cited, though these from Restoration Hardware are beautiful too (and pricey to match):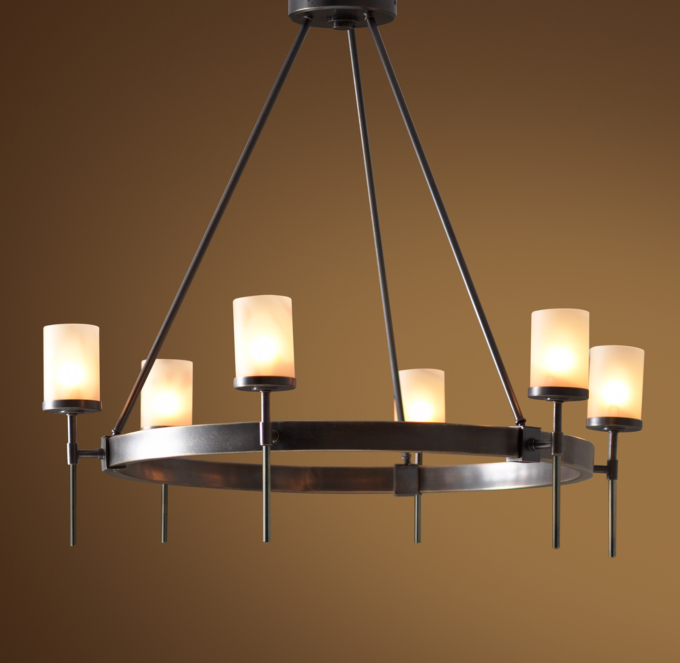 Though having a ceiling fan in there is wonderful during the summer, so I may have to compromise on this point. Sigh. Maybe I can make up for it by hanging lots of rustic lanterns.
4) Plants on all levels. My overwintering trees, of course – fig, lemon, olive, bay – but in time ferns, mosses, ivies too.
Eventually, when all is said and done, is it too much to hope that it will be like an outdoor patio, only better because the chair cushions never get wet? Or maybe like my daydreams of French garden conservatories?
I can only hope. The good thing about this project is that it is so simple. It can be completed piece-by-piece and I can spend as much or as little as I want. I could do it right now… or maybe wait a little bit until my funds catch up with my imagination.
Either way, I'm glad to have found a path. Some day that room will be a beautiful place.