It's Fall, and for us that means Applesauce Time! With two kids we'll go through it faster than ever.
This year instead of going to a pick your own place we asked our local farmer if he had Jonathans (my favorite for applesauce and pies – I missed them SO MUCH last year!). He didn't, but his friend – also local – did and he arranged to have them brought in for me.
I love working one on one with local farmers. That's how commerce should be. (This particular farmer has sold his land to a developer and is continuing to farm the land until they actually start building… so he may not be around next year. For three years we've relied on his amazing peaches & produce to get us through the summer. What will we do without him? Think my trees will be productive by next year? Yeah, right!)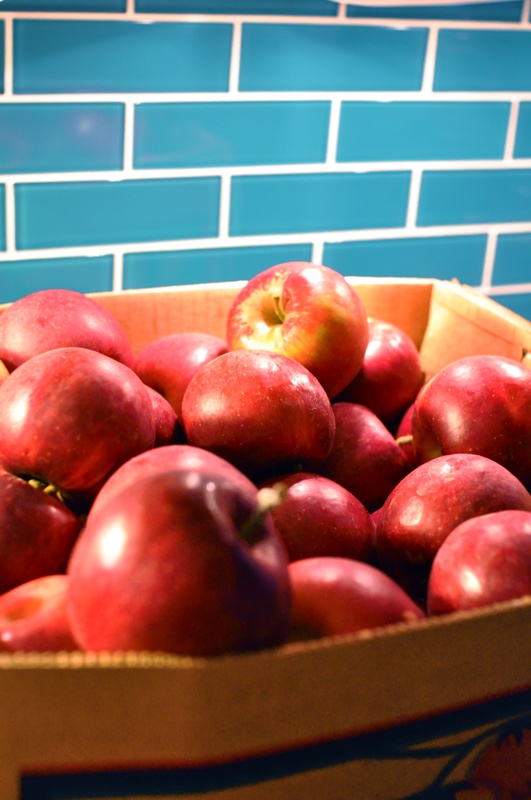 Sofía looks forward to applesauce making every year.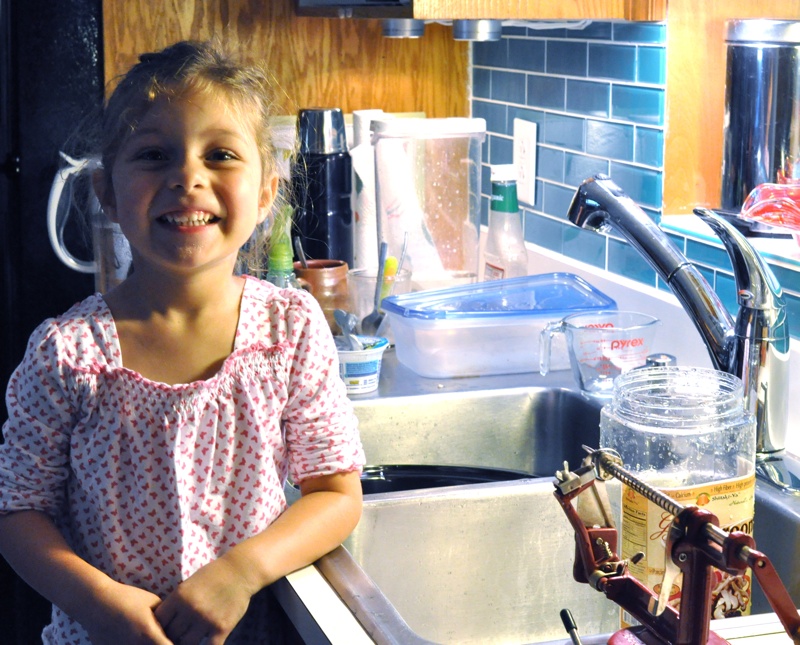 Her job is to put the sliced apples into the crock pot, and put the scraps and cores into the plastic jar for our next batch of apple scrap vinegar.
Look at all those apple scraps! It's gonna be some appley vinegar! And this was only a fraction of the scraps. The chickens got at least this many, and the rest went into the compost to feed the earthworms.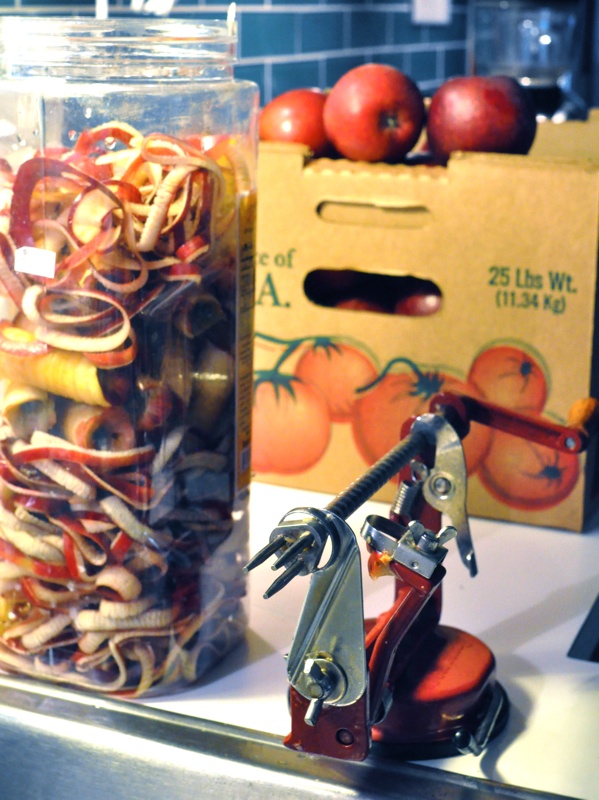 Apple scrap vinegar couldn't be easier: You fill a jar with your apple scraps, then you top it up with a solution of 1/4 cup sugar dissolved in 1 quart water. Repeat until full. Add in a good splash of some raw vinegar if you have it, to "prime" the bacteria. Then cap the jar with a paper towel secured with a rubber band and set it in a dark place for two weeks, when you will strain the vinegar out and let it cure for another 2 weeks before it is ready.
Applesauce is nearly that easy too; apples, 1/2 cup water, crock pot for a few hours until the apples are mushy. Run them through a food mill if you like, (not mandatory) to make sure you get out all the forgotten bits of skins and seeds. Add a couple tablespoons of lemon juice, sugar & spice to taste, and can it up … or freeze it. We got four quarts out of each large crock pot batch, and half a bushel of apples made two batches.
This year, on a whim I decided to spice up our second batch and ended up inventing "Christmas" applesauce – I added in a 1/2 cup of cranberries while it was cooking, and sweetened it with a cup of dried dates cooked right along with the apples. A bit of cake spice (cinnamon, ginger, cloves, allspice) and a 1/2 teaspoon of orange-vanilla extract, and it tastes amazing! I told Sofía that it smelled like Christmas while I was cooking it and she took a bite of the finished applesauce and said "Oh, Mommy! Christmas is delicious!!" So "Christmas applesauce" it is. Actually, I think I might serve it instead of my traditional cranberry compote right alongside the Thanksgiving turkey. I'm glad I made it in small jars for gifting – the cranberry bits in it look extra pretty. Shoulda taken a picture, durn it!