Of delicious red tomatoes.
No, these are not my own tomatoes, alas. These are from the farm stand just down the road; because of last night's frost warning they were culling all the tomatoes from the fields and they had 1/2 bushel baskets set out front, stacked on bleacher seats, "Seconds! Buy 2 get one free!"

A deal on top of a deal. And just this week I noticed we were down to just a couple quarts of tomatoes left from last year. That would never do. I use crushed tomatoes as the base for so many things – a quart goes into most of my slow cooker dinners, plus they are what I use as a base for my enchilada, spaghetti, meatloaf & lasagne sauces. I love having only one type of something that fulfills so many purposes.

I bought a bushel and a half and got to work… boiling, cooling, peeling, crushing, bottling, salting, cleaning, lidding, boiling.
Thank goodness I'd stocked up on lids last time I was at the farm store, because 1 1/2 bushels rendered 30 quarts of crushed tomatoes.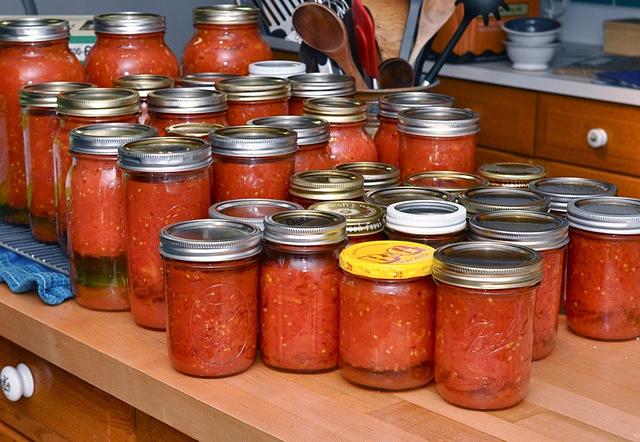 Actually it would have been 32, but I saved the slightly unripe ones to use in today's chile sauce adventure … more on that later.
As you can see I filled three half-gallon jars as well. I figured these would be perfect on the nights I want to make spaghetti. I thought really hard about how I should probably just make the spaghetti sauce right then before canning up the rest of the crushed tomatoes, but after 5 hours of canning I did NOT have the energy to go to the store (onions, garlic, basil, etc) and then start all over again. I may be nuts, but I'm not crazy!  
It may seem unbelievable, but I bet we run out of these tomatoes before the end of next season.