So I took photos for this post back in December, when this post would have actually been useful… but then half the photos (of the finished, glowing lights, and the assembled "tree") got lost. And Christmas and travel got in the way of my actually writing, and these photos got forgotten until long after Christmas lights are supposed to have been taken down.
But! This was a fun little project, so I'll share with you anyway.
First, Sofía and I put together a lit Christmas tree for our bay window out of a tomato cage and small clear lights. It looked something like this:
And then we added a string of big, fat lights to that, to make it look like it had ornaments on it. But four of the bulbs were dead, and we couldn't find replacements anywhere. I finally figured out that nightlight bulbs are the same size. But they were all of them blah flat white, which was a bummer. Who wants flat white Christmas baubles?
Then I thought of my bake-on glass paints.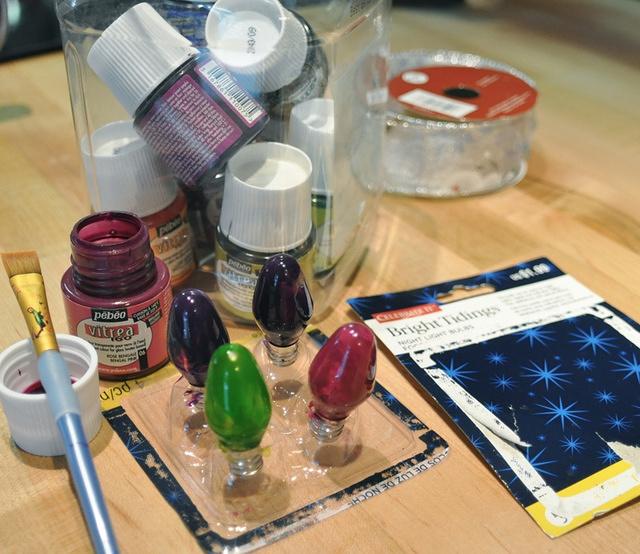 I'd originally bought them a year ago to repair a set of beautiful Dansk Spektra cordial glasses that we'd gotten for our wedding. The color had flaked off the bottom of a couple glasses. This paint was perfect – I thinned, applied, and baked on and the glasses looked just like new again.
Michael's had been having a sale on the specific glass paints I wanted when I went there – 50 cents each instead of $3, since they were replacing them all with Martha Stewart – so I stocked up and got a whole rainbow. But now that I had them, what on earth was I going to do with all them?
So I was glad to find a use for them in this project. Because it was a heat-set paint, I didn't even have to be worried about the heat from the bulbs bubbling or burning it. I just painted the colors thickly onto the bulbs and let them dry. Then we got a little crazy.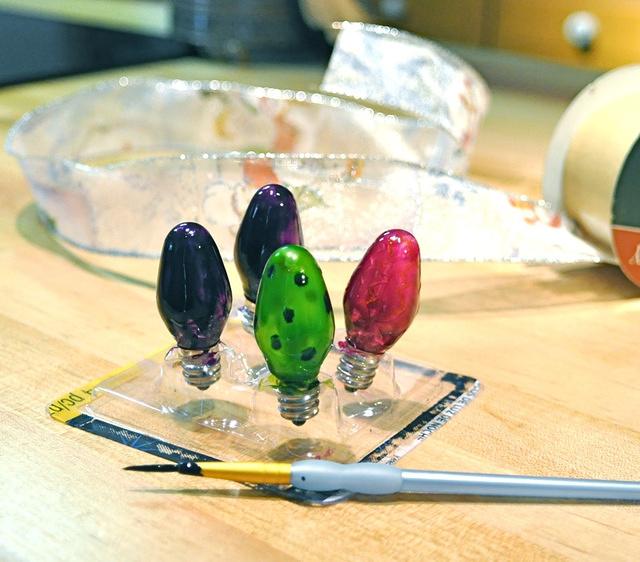 The pink one has orange zigzags on it, and the two purple bulbs each have different green designs. They showed up really well when they were lit, I promise! But of course those were the photos that were lost.
I did not bake the paint on because a) I didn't know how hot a lightbulb could be baked without exploding/being ruined, b) we don't need  a lot of durability here and c) the lightbulbs themselves get so warm after being on for a while that I was sure that would be good enough.
Sure enough, it worked! And next year I will have the fanciest Christmas lights in town. I'm thinking double-dips, flicked paint, silhouettes, and wax resist. Or even -gasp- letting Sofía decorate a string of her own.