I got 5 new chickens last spring, but because I really wanted some Araucanas (the blue-egg layers) I had to wait til June to get them because of some backup at the place that supplies all the feed stores around here with chicks. Normally I'd get them a couple weeks before Easter. This late start meant that they were supposed to start laying around November, but by then the weather was cold and the days were too short already. So, as chickens sometimes do, they decided to put off laying at all until this Spring.
Which meant I had to feed 5 more full-grown, nonproductive chickens all winter long. Grr. There are already 4 ladies in there that stopped laying last year from old age, and they will have to meet the soup pot soon… but they have names and I can't bring myself to do it just yet. So nobody is laying (maybe 1 egg per day from 12 chickens is awful), I've had to buy eggs from the grocery store three times already, and those lazy hens just continue to shovel up my super-expensive organic chicken feed, which is getting old fast.
So I've learned my lesson. Never buy chicks after May. Got it.
But it looks like finally, someone in there has decided to start earning her keep!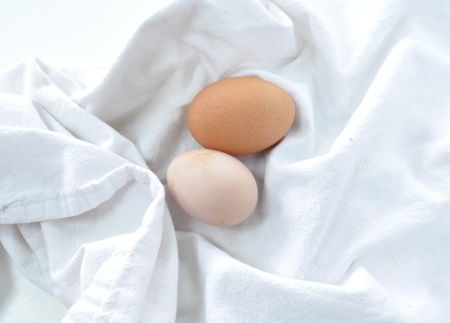 It's a little difficult to see, but in person it's obvious how much smaller the pale egg is than the big (regular sized) one. It's kind of darling, actually.
Here's to finally having a productive coop again!