The best salmon with butter on it. Aw yeah.
There is only one thing you should do with your leftover sous vide garlic caper salmon. If you have any left. (If you don't, make more. Make it NOW. This is worth it.)
Sous vide salmon with homemade English muffins and lightly lemoned hollandaise.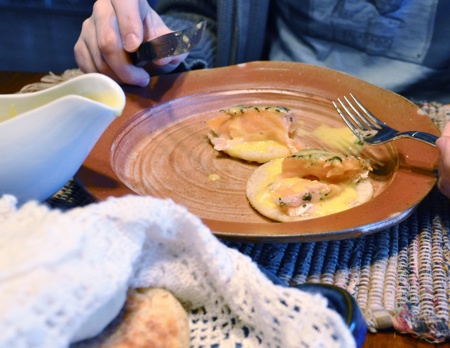 I am not a gourmet cook. Not at all! Most days it's frozen veggies and some kind of protein… and my family is lucky if they haven't already had it five hundred times before.
But making this made me feel like a million dollars. It was seriously better than any restaurant breakfast I've eaten, because the flavors went so perfectly together.
I made this recipe for the English muffins in my new rings (quartered, it made four & a bitty one) though I eliminated the first rising time. They could have used a touch more salt, and they didn't have the big bubbles one would expect (probably my fault, from rolling them too thin to begin with). Still, that fresh-baked bread flavor is essential to complementing the melted lemony butter of the Hollandaise. If you have a favorite English Muffin recipe, I'd love to hear about it.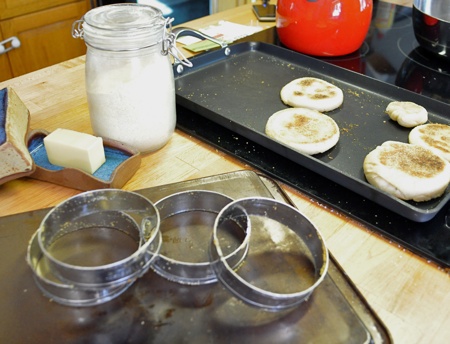 Now, hollandaise and I have been around the block. I've tried so many recipes… from Ina Garten, Tyler Florence, America's Test Kitchen… they all came out tasting thin and sour, and personally I thought it was a waste of good cultured butter.
TIP: Use your best butter for sauces like these where the butter flavor is up front and most important. Save your second-best for baking… though I admit, I used Land-O-Lakes here, my second best, and it was still amazing.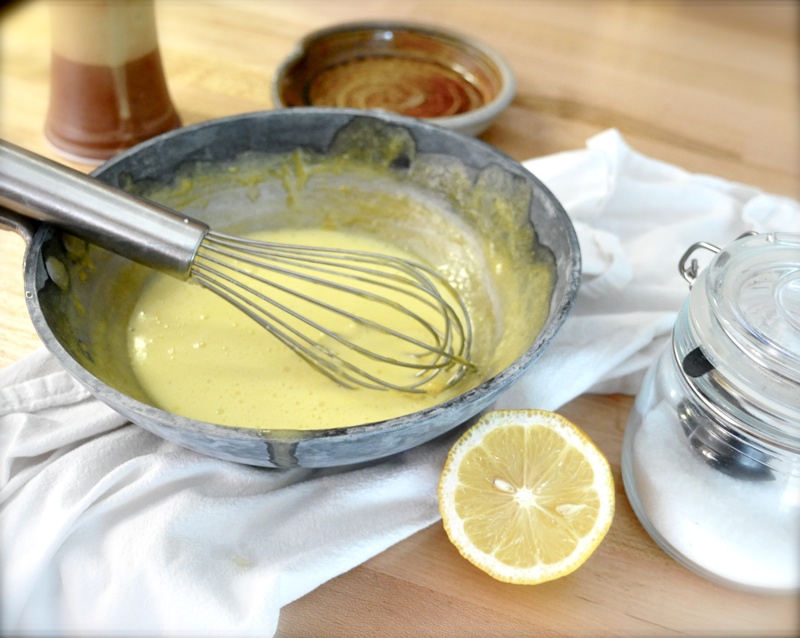 I started off with Alton's recipe here (I love me some Alton Brown) but doubled the sugar, upped the salt a bit to taste, and added the lemon juice to taste. I used a full half lemon before I was satisfied. Here's the modified recipe for posterity:
3 egg yolks
1.5 teaspoons water
scant 1/2 teaspoon sugar
12 tablespoons (1 1/2 sticks) unsalted butter, chilled and cut into small pieces
about 1/2 teaspoon kosher salt, to taste
a little more than 1/2 of a fresh squeezed lemon, to taste
Directions:
Put an inch or so of water in a broad saucepan and bring to a simmer over medium heat.
Place egg yolks and water in a smaller saucepan or mixing bowl and whisk until mixture lightens in color, approximately 1 to 2 minutes. Add the sugar and whisk for another 30 seconds.
Place the mixture over the simmering water and whisk constantly until it thickens. (There will be a clear line that is drawn in the mixture when you pull your whisk through, or the mixture coats the back of a spoon.) For me, this took only 1 minute, not 3-5 like it took Alton.
Remove the bowl from over the pan and gradually add the butter, a few pieces at a time, and whisk until all of the butter is incorporated. Place the bowl back over the simmering water occasionally so that it will be warm enough the melt the butter. Add the salt & lemon juice, tasting as you go.
Pour into a warmed gravy boat and serve immediately so it doesn't congeal as it cools.
We warmed our leftover sous vide salmon in a 200*F oven for about 10 minutes, and that was enough to gently warm it through without cooking it further.
Top the muffins with the salmon and pour the lemony butter sauce over it all…. mmmm. Heaven. I really do think this was the best thing I have ever cooked in my life, and I think it will become a family tradition. Salmon-aise Sundays.
Even Lilu got a little muffin of her own.