I decided to tackle another home organization project this past weekend … because just look at this. Shameful, I tell you. This is the cabinet where we store all our warranties and manuals. And other sundry stuff too, but it is the sloppy, sloping slide of papers I really wanted to tackle.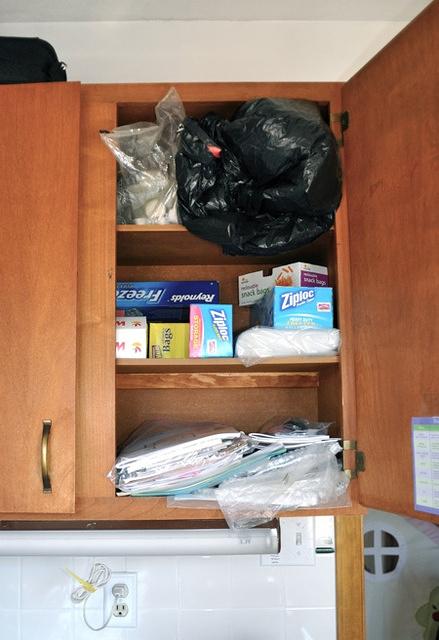 I wish I could say that I was motivated purely by my success on the previous box project... but the truth is that I was also afraid that the next time I opened this door, the pile of heavy manuals encased in slippery plastic would fall on me in a very uncomfortable waterfall of my own untidyness.
Plus, I had a cardboard box of the exact right dimensions just sitting on the table waiting for me. And a canvas fabric remnant of just the right proportions. And a scrap left over from the diaper box project  that matched perfectly, just calling out to be made into a label.
But there is no way I was going through the effort and frustration of making an iron-on freezer-paper transfer again, not for a box we're just going to hide away in a cabinet. This time I wanted to print directly on the fabric.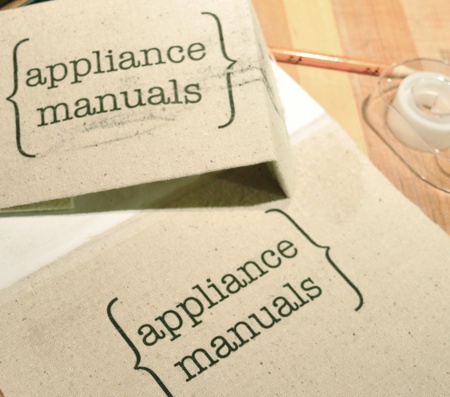 Frustrating until I learned how to make it work, but then it worked so perfectly that it was all worth it. Here's what you have to do:
1) set the fabric 2″ up from the edge of a piece of printer paper in order to "trick" the printer into sucking it down. When I had both edges even, my printer kept spitting it out and not printing. Somehow it knew the fabric felt wrong, even though it was cut to the right size and backed by real paper.
2) Use spray adhesive very lightly but evenly to glue the fabric down to the paper all over. You don't want wet spots, and you don't want gaps where the fabric is loose or the fabric will ruck up and wrinkle in the printer, creating ink-smeared results like the one on top. Don't print right away – let your sheet dry very well first. I stuck it in a 170* convection oven for half an hour, but you could just leave it out. Trim off any excess fabric.
3) tape evenly over the edge where the fabric meets the "trick side of the paper to create a smooth transition. See above.
I was very pleased with the end result. It renders a totally different look than the other method, so both will have their place in my arsenal. I can even see using the iron-on technique on pieces of wood and using those as labels – I'm pretty excited about doing that, actually. But for text on fabric, I think I will stick with printing. It took only about half the steps and time.
I cut out my label a little on the large side so I could fold the edges over and get a cleaner look. Once glued to the box, I set it face-down on the counter overnight, weighted down by a couple pounds of butter and a full teapot, to make sure the label was well-attached and the folds crisp.
And in the morning there it was: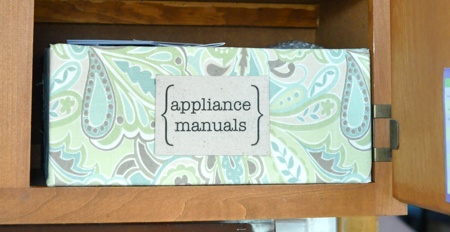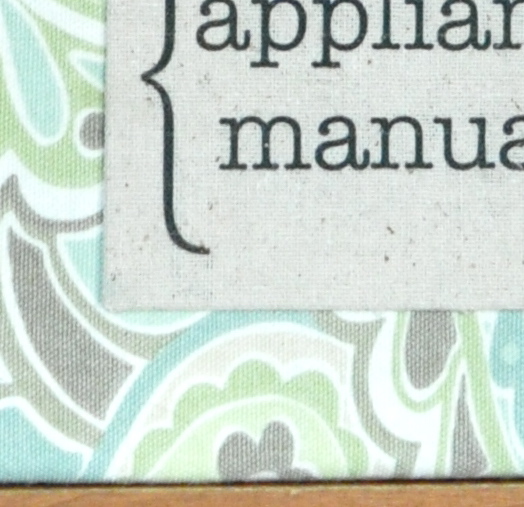 I very much wanted to cut the heads off four oversized galvanized nails and set them on the label corners. (If I punched the nails through, I couldn't figure out how I would then bend their ends to make them safe on the inside. It would be so totally awesome to have four angry pointy nails jabbing into the inside of the box, wouldn't it? Like, you can't remember how the washer works so you reach in to get the manual, and stab your hands all over… and the nails are like, you wanted a manual for that huh? Next time you better just remember on your own. That'll teach you!) But we are all sick over here so energy levels are at an all-time low. Maybe someday I will get around to my silly aesthetic nail heads.
In the mean time it works, it looks good enough, and now we can close the cabinet door. Heck, I might even go get a glass one.
| | |
| --- | --- |
| Before: | After: |
| | |