I started making our own chocolate syrup back in March of 2011.
I wanted chocolate syrup in the worst way. I wanted to make my own Bailey's (because I am a cheapskate), and was also looking for an easier way to make chocolate milk & cocoa (because cooking cocoa from scratch for impatient 2 year old just doesn't work). But every time I picked up that brown plastic bottle of Hershey's at the store, I'd glance at the ingredients list and reluctantly put it right back again.
First ingredient: High fructose corn syrup. Second ingredient: Corn syrup. Then water. Then – at place #4 – cocoa! Then more sugar and… (let me quote) POTASSIUM SORBATE; SALT; MONO- AND DIGLYCERIDES; XANTHAN GUM; POLYSORBATE 60; VANILLIN, ARTIFICIAL FLAVOR. All that and more for … however much Hershey's costs. I don't even know.
Anyway, preachy-preachy, who cares. (But do they really need three kinds of sugar? –ahem-) My point is, when I finally manned up and went searching for a healthier version of that good ole addictive brown sauce, I could have kicked myself for waiting so long in the first place. 52 Kitchen Adventures had my back.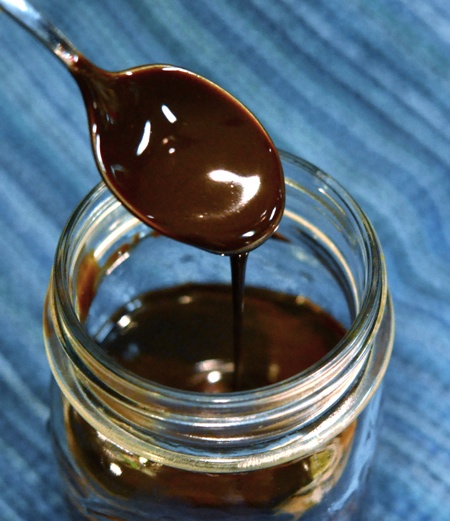 Did you know you can make chocolate syrup identical to Hershey's – or dare I say, even better – at home with only five simple ingredients, in ten minutes or less? I KID YOU NOT. (Really, it's only because it's so easy to do that I've managed to keep up with it for two years.)
INGREDIENTS:
1 cup baking cocoa powder
1 1/4 cups sugar
1 cup water
1/4 teaspoon or a four-finger pinch of kosher salt
2 teaspoons good vanilla extract
In a small-to-medium saucepan, whisk together the sugar and cocoa until it's fairly smooth. Add the water and salt and cook over medium heat, stirring frequently.
Still stirring frequently, bring to a boil and cook for a few minutes until thickened. Remove from heat and let it cool for about 5 minutes before adding the vanilla extract. (Vanilla is delicate and if you add it when things are hot you risk evaporating some of the good vanilla-ness.)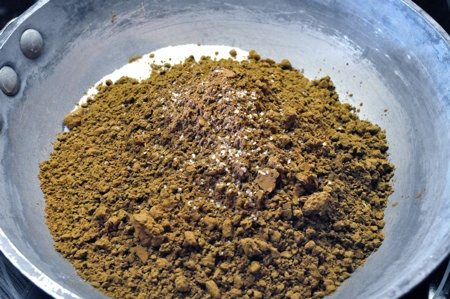 Pour into a repurposed screw-top jar… or your old Hershey's bottle. (Because after you do this a couple times you sure won't be buying another one at the store.) Keep it in the fridge.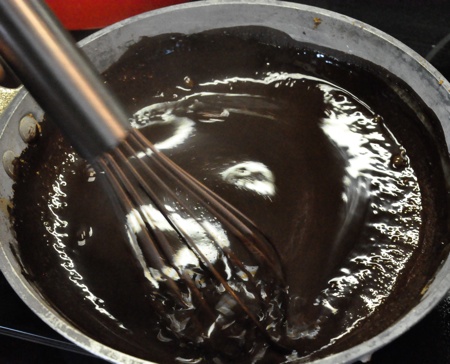 Pour over everything.