I'm never happier than when I have several different projects going at once… and all of a sudden I have three BIG ones. I can't wait to share them with you!
The first project is something that – surprise, surprise – was inspired by something my good friend T and I independently saw on Pinterest.
Making an entryway coat closet into a nook with a bench seat and an area in which to take off your shoes, cubbies to store papers, & entryway clutter, etc. It just looks so elegant and makes so much sense to me.
I wanted to run home immediately and get to work… but unfortunately, our coat closet is located down a hallway and around a corner from the door. In order to get there to sit and take off their shoes, guests would have to tromp all the way down the fancy rugs that we try hard to not let them tromp down with shoes on… so alas and alack, our shoe-removal area will remain small and rife with Ikea, and our coat closet will remain a run-of-the-mill closet far away from our entryway door.
But T's closet was perfect. Big, open, and right in front of her entryway. So we both agreed, what could make more sense than for me to come over and build this project for her?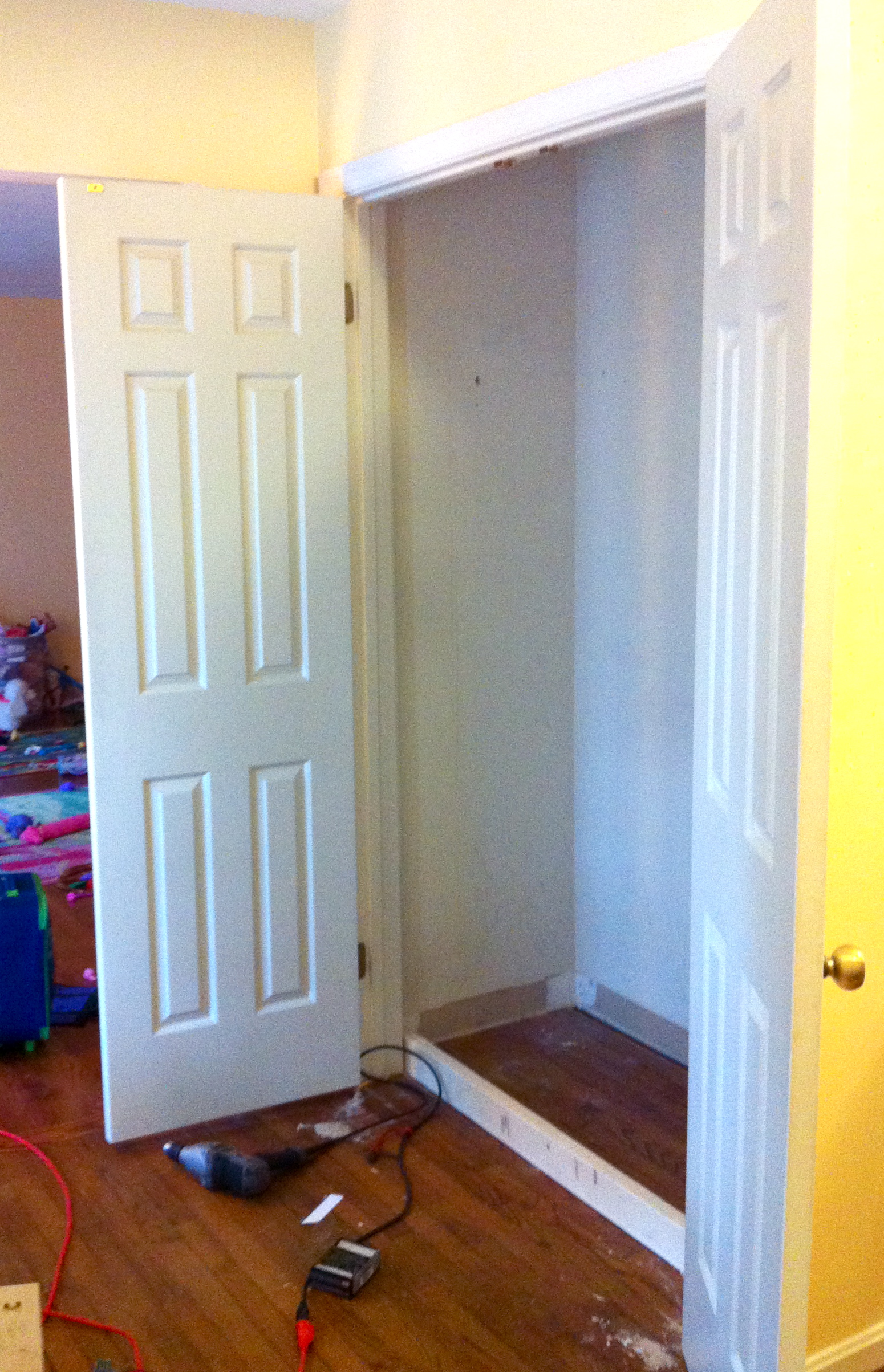 As "before" of a shot as we're going to get. There's already a piece of framing in there and the Rubbermaid shelf has been removed. Whoops.
Well, building the closet for her makes sense to me anyway. Josh thinks I'm crazy, but I'm having a ton of fun and the kids are having a blast with the continual playdates and the macaroni and cheese and fruit snacks that T buys (that they never get at home).
The first thing I did was set about learning how to use Sketchup. Two video tutorials in and I started fooling around. The first plans were finished in 7 hours.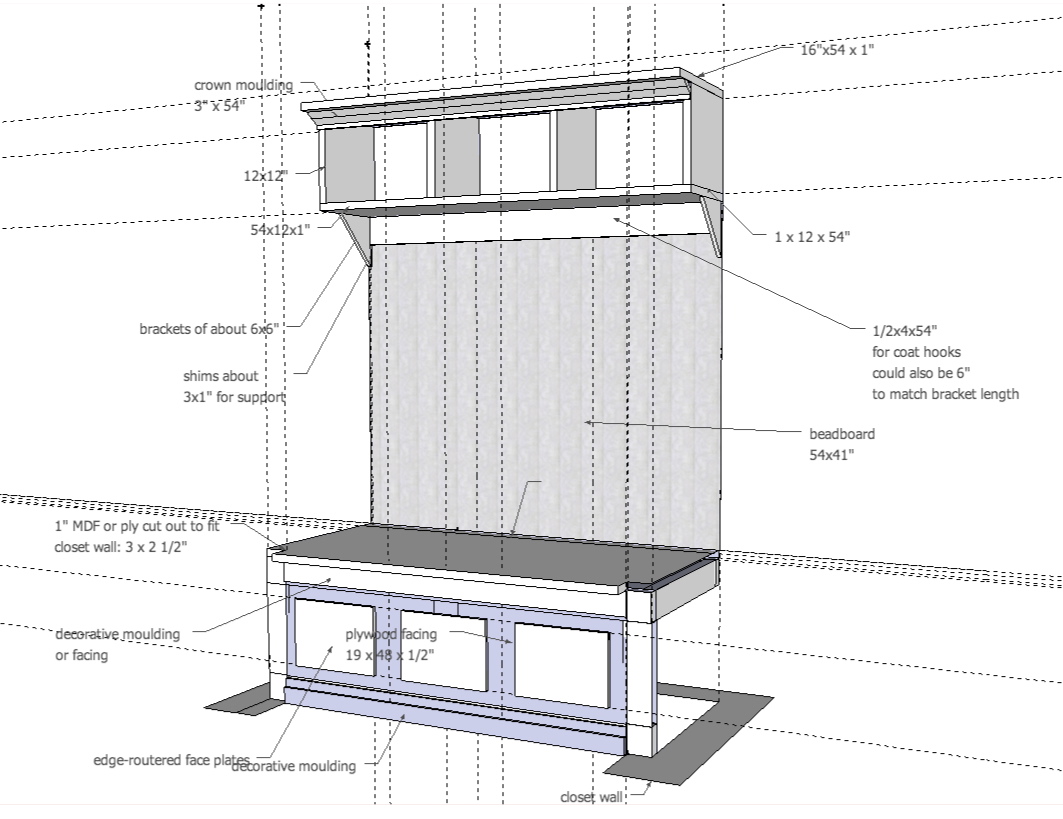 Can I just say how much I adore Sketchup? 3D modeling is my newest crush. (That, and the table saw I borrowed from my dear friend S, in order to make this project happen). It's quick, it's intuitive, it's FREE, and it eliminates all the guesswork from my plans. I have never had a plan come together as perfectly as this one did; Sketchup forces me to think spatially and assign depths to every piece. If I want to know how long to cut something, I can just go into the software and measure it.
T is having her old family friend Jason stay with her family for a while in order to work on this. It's really nice to have an extra pair of hands around! I have to admit he's been doing most of the heavy work so far… which has been very pleasant.
He really wanted to make tipout drawers for shoes, so I looked up how to do it without fancy hardware. Didn't take long to find something over at Ana White that I thought we could imitate. I modeled it in Sketchup so we could have exact dimensions.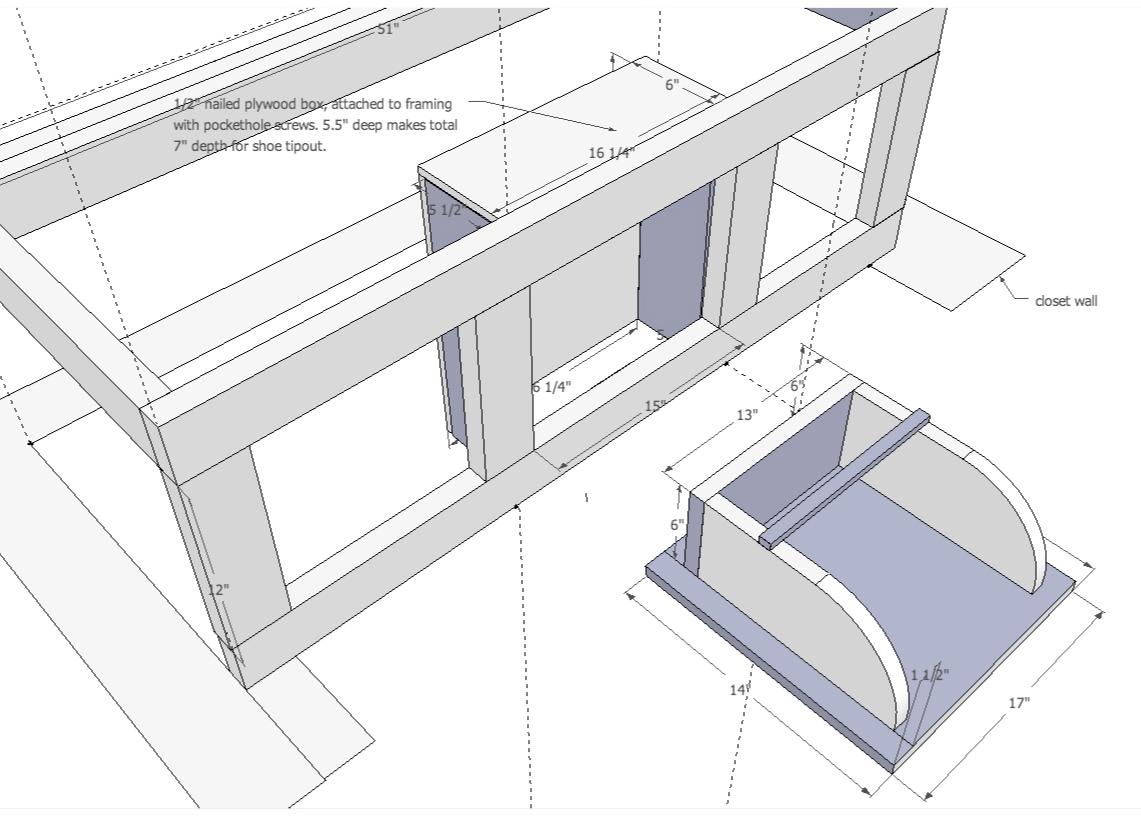 And then we decided to make three, because three is better than one.
I even used Sketchup to figure out the best way to cut our plywood. Nothing like being able to plug in dimensions and have a drawing rendered to scale for you. (That area labeled "waste" turned out not to be, since we were making 3 tipout boxes.)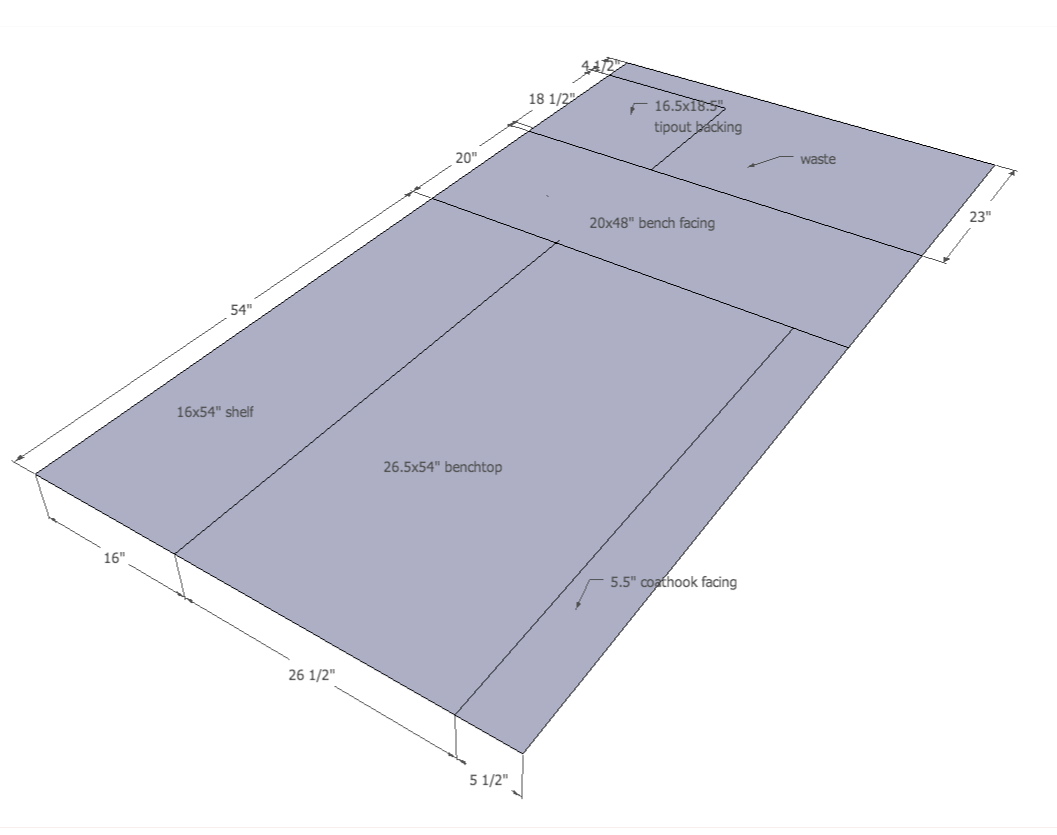 And here we are three days later. That shelf was 6 inches lower in my plans, so that you could clearly see the top & some space above it from the doorway. I can't complain about the oversight though, because – hooray! – I didn't have to do the work to mount it myself. (Have I mentioned how nice it is to have someone else around who knows what they're doing and keeps chipping away at a project while you're not there?)
I think it's really starting to shape up nicely.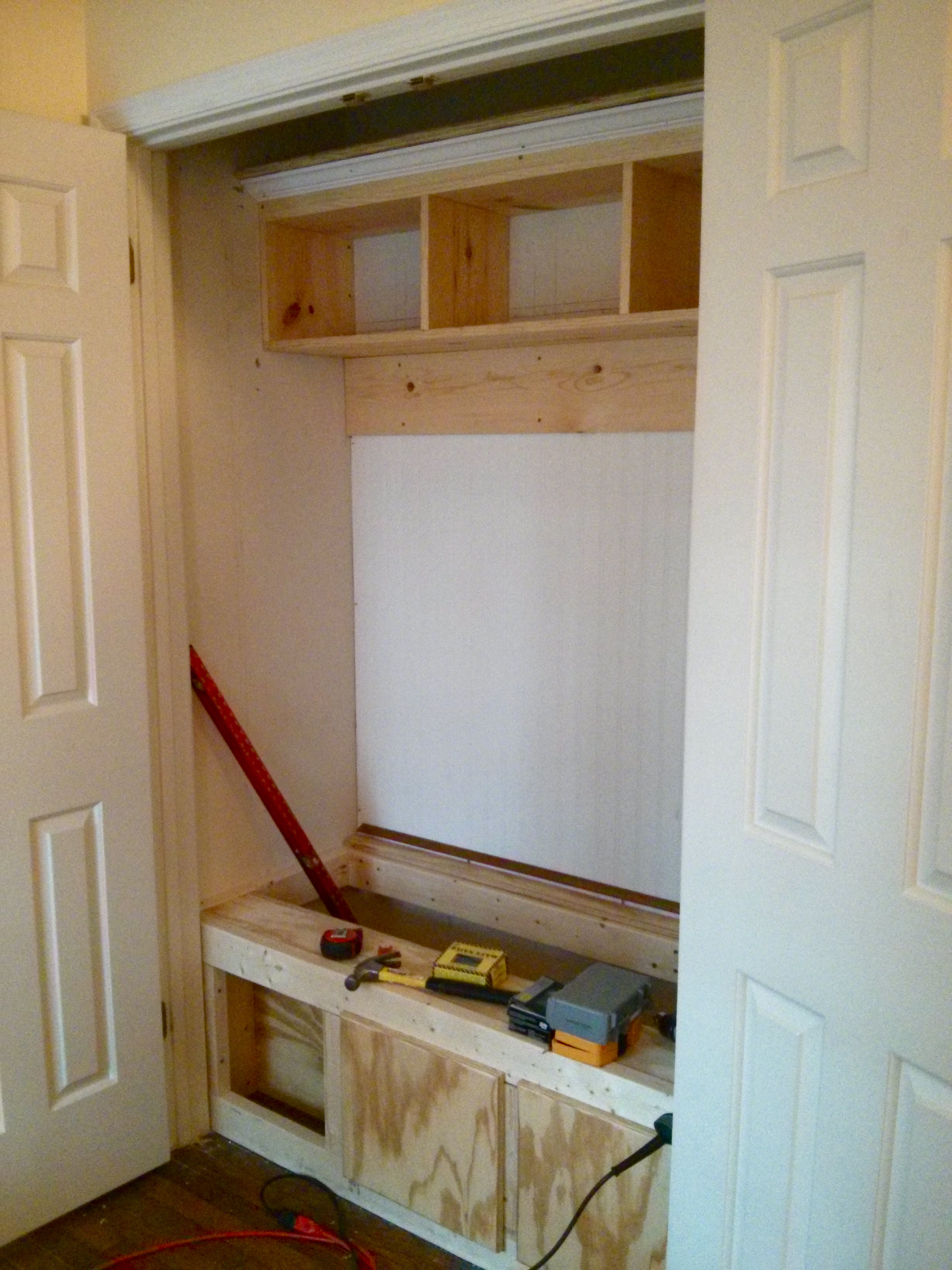 And I have gotten to spend hours routing, measuring, sawing, and screwing pieces of wood together. I have been coming home very tired and sore but a happy, happy woman. (And I'm even more appreciative of my slow-cooker than before… nothing like coming home after a hard day's work to find a home-cooked meal ready and waiting!)