It was supposed to be the midst of a glorious snowstorm. Sofía was supposed to get out and play in the snow, and make snowballs, and get completely tuckered out. Both kids were supposed to finally get a little bit of mileage out of those matching snowsuits I bought them (and neglected to bring to Missouri over Christmas, where of course it snowed like twelve inches).
But instead it ended up just being another nasty, rainy, gloomy, frigid March day. Sofía was stuck inside, Josh had taken the big car (with carseats) fearing snowy roads, so we couldn't go anywhere. Sofía was so grumpy over the lack of snow that she refused to get dressed or leave her room.
Until I suggested fizzy painting.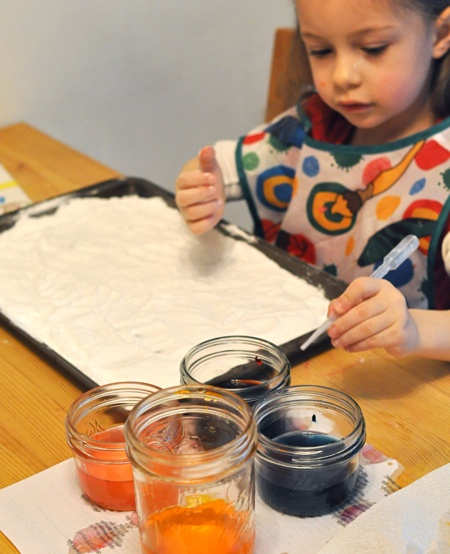 You start with a cookie sheet covered in a layer of baking soda. (I get a huge bag of baking soda from Costco because I use it for so much).
I put an inch or so of vinegar into the bottoms of a clutch of small Mason jars and gave her a dropper. Sofía got to choose her own food colors to put in and mix up. The purple didn't work – something about the acid – so she got to mix in other colors and make "whatever."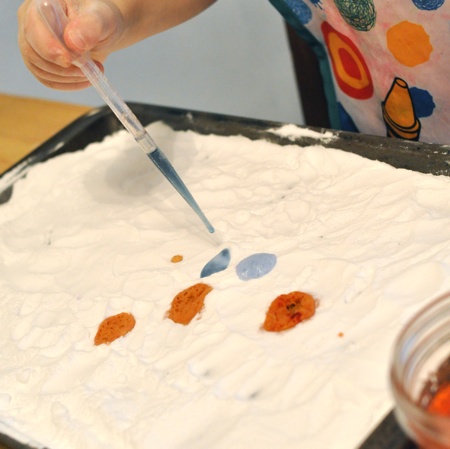 ("Whatever" turns out to be a kind of rusty brownish orange.)
Dropperfuls of colorful vinegar on the "sheet" of baking soda make delightful fizzes and pops. Sofía was entranced. And amused for almost an hour.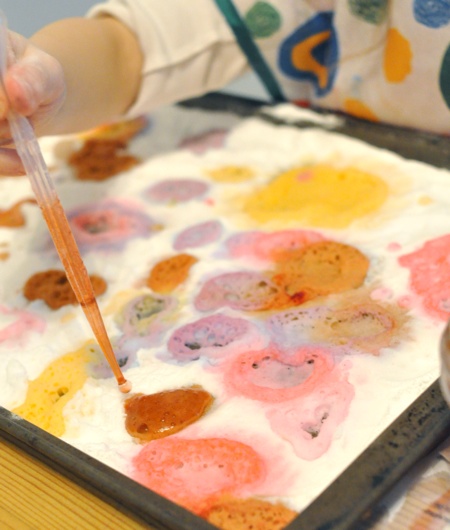 Once the chemical reactions were exhausted, she had a cookie sheet's worth of colorful "mud" to rub her hands in and try and sculpt things with. A fully sensory experience.
Her palms will probably be neon pink for at least a few days, but she had so much fun.