Remember back in 2010 when I redid a set of 100-year-old chairs for my dining room? Ha ha, of course you don't. Probably. (Seriously, how presumptuous am I to assume you've been reading my blog for the last 3 years?)
Anyway, if you don't, the short story is that a friend of mine had a set of antique chairs she could no longer house. She gave them to me and I had to learn the hard way exactly how tedious, time-consuming, difficult, messy, frustrating, and overall how utterly rewarding and fascinating it is to refurbish antique furniture. I really, really, really like it. And in redoing the dining chairs, I earned a whole new set of skills that has really served me well in the past few weeks.
I was recently delighted to accept when a friend of mine asked if I would do an antique bench for her. She just wanted the seat recovered, so we agreed on a somewhat minimal price and her husband brought it over.
It promptly fell to pieces as he was lifting it out of the truck.
"Uh… could you, maybe, uh… could we ask you to glue it all back together too?"
No problem, I assured him. I was inwardly rubbing my hands with glee at getting to make this bedraggled thing beautiful once more.
It looks like it almost matches my set of dining chairs. It is definitely from around the same time period.
Of course there were surprises (beyond its simply falling apart in my driveway). There always are. For one: there was really almost nothing holding the chair together. The webbing had completely disintegrated.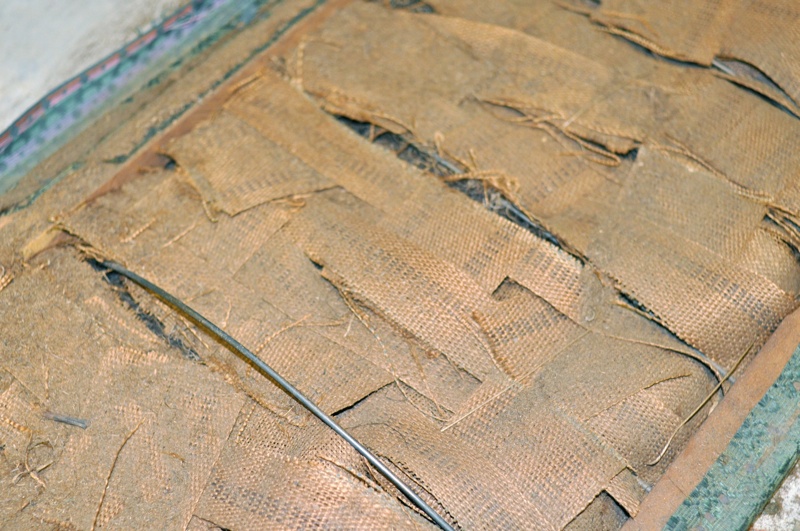 The chair had already been recovered three times, once with what seemed to be a baby blanket (it had some stuffing inside). This was probably stuffed in there as the webbing failed, to raise the level of the cushions again.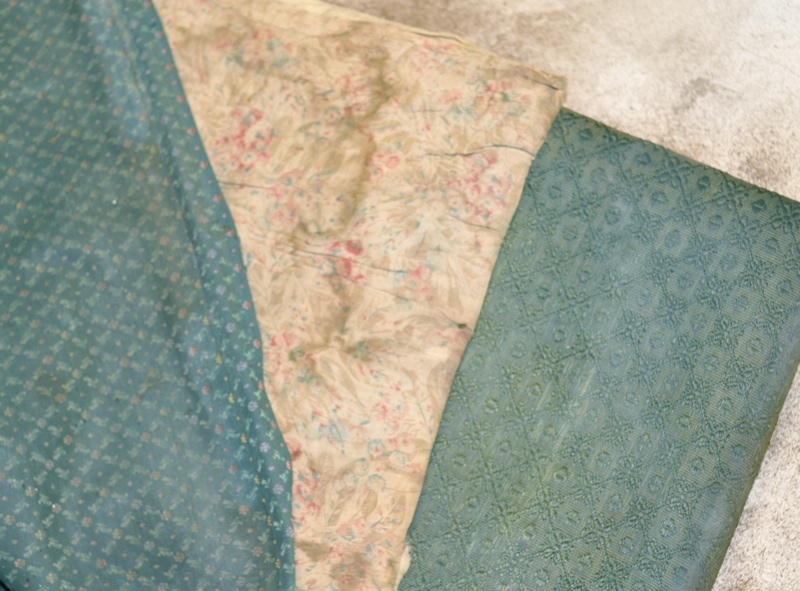 Horsehair and straw stuffing.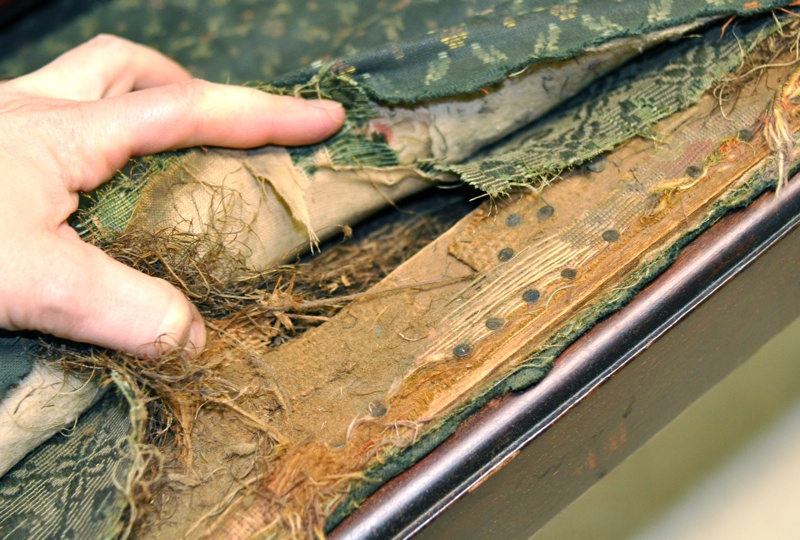 A good few hours with a tack remover and a shopvac revealed …. these curved metal "staples" in the pic below.
Many hours of googling revealed nothing. Two different professional furniture refinishers were contacted. Though neither knew what they were, MJ Amsden of http://mjamsdenfurniture.com/ spent a lot of time answering my email and his help was utterly invaluable. Anyone in Vermont needing furniture redone… this guy sure knows his stuff! Wow.
In the end, I just let them be.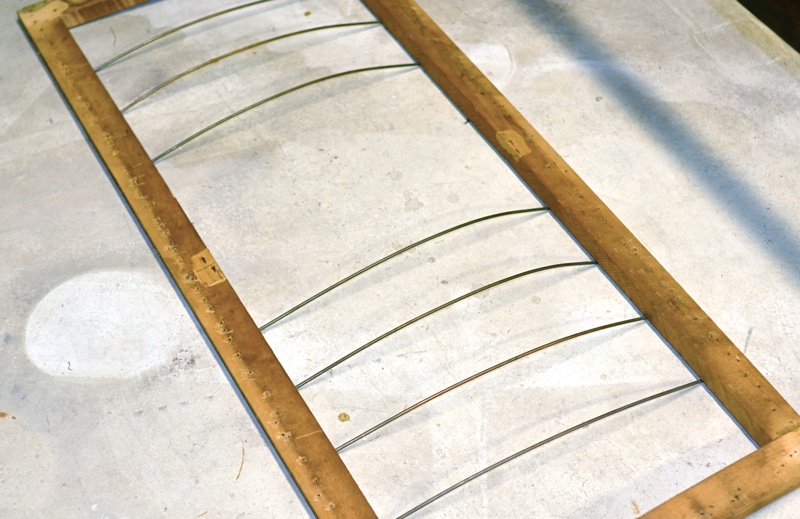 Getting the bench apart and dismantled was the easy part. Then I had to scrape and sand all the glue off every. single. piece. Every dowel and join – both faces of each joint. Because I was informed that old-fashioned hide glue would not stick to modern glues. Better safe than sorry.
There was a lot of clamping involved. About sixteen of my 4-foot clamps were engaged at one point.
The beautiful curving points on this bench had all fallen off; two broke in my driveway and one had been missing for years and years (judging by the darkening of the wood). Here's a pic of the new piece I created to replace it, with a single coat of stain in place.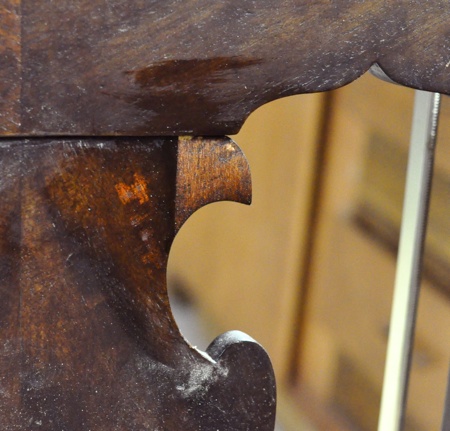 OK, I lied. That is not the piece I created to replace it. That is the fifth piece I created to replace it. Because I am a perfectionist, I first had to plane a board to the right thickness, then trace the other curves as a template, then cut it by hand with a coping saw. And even though the shape is now perfect, I keep wishing I had also matched the slant of the (veneer's) grain. Ah, well. BACK FROM WHENCE YE CAME, OCD.
Seeing as how I'd already spent a good ten hours on the project and wasn't even half finished, I decided to leave it as-is. My friend did not, actually, even want me to refinish the bench. Just glue it together and reupholster it.
In reseating the seat frame after regluing the bench, I discovered this writing on it. It's probably from the original manufacturer. Can anyone discern what it says? I don't even know if it's in English. It's these sorts of human touches that have utterly vanished from commercial products nowadays. Of course I had to take a picture.

Aaaaand this is too many pictures for one post. So I will post more tomorrow! Or the next day. Because unlike most projects that I promise to keep you updated on (and then completely fail to do so), this project is already finished and photographed.
Stay tuned for the exciting, uh… middle part… of making this antique beauty gorgeous once again.