A dear friend of mine is getting married this May to her partner of many, many years. I am so honored that she asked me to make her wedding dress for her! I feel blessed that I get to use my skills as a means of showing love and support for her.
L wants something very simple and classy, which makes it easy on me, and knee-length (which means we might actually have enough fabric). Something A-lined and princess-seamed. And I'm trying to talk her into a sash or belt. And something sparkly. And a shrug to match. Who knows? MYSTERY, PEOPLE.
The fabric will come from a wedding dress handed down through her family, so this will be her "something borrowed" and "something new" all in one. Recyling + heirloom = wooo! (Except I better be DURN CAREFUL not to make any cutting mistakes!) I'll try to get some pics the next time we unpack it.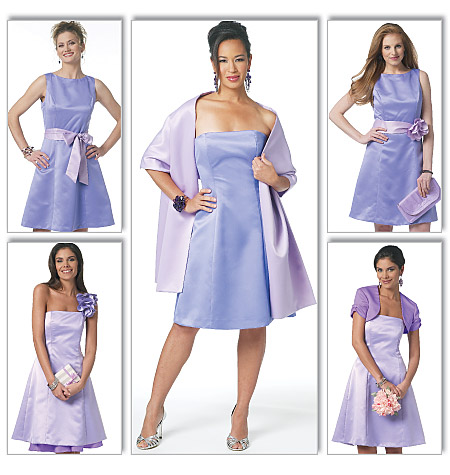 This is the pattern she chose. We won't be following it all that closely, but I did want to find one whose basic lines are true to our final design. Makes it much easier to work from something already close, than to start from scratch!  You wouldn't think it'd be hard to find a pattern for a simple, A-line princess-seamed dress, but this was the only one out of all the sewing companies' patterns that looked right.
I am not a fan of Butterick patterns. In every pattern I've worked with some important steps have been skipped (in this one it was "repeat all this sewing together of stuff with the lining too, before attempting to sew lining on".) It does not present a real problem for me personally because I don't really need the instructions anyway, but I object in principle. In any case, if you're a beginning sewer stick with Simplicity; if you want to try your hand at a more adventurous project try Vogue (they have some fancy techniques but will talk you through them clearly).
I also think that if a pattern says that a certain size will end up being a certain number of inches around to fit a person of a certain size, then it should measure that once sewn. Call me crazy. But you should have seen the giant's pajamas that my last foray into Butterick territory produced – I ended up cutting them down by half.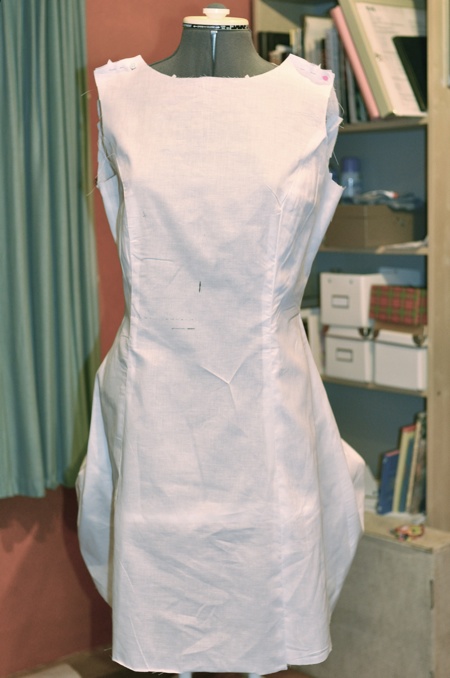 This was the first muslin, and I had to take three inches off the bust and at least one off the waist. This is why rough drafts matter, people. (And by "people" I mean "me" because I always want to just dive right in.)
Oh, and by the way, check out my new-to-me dressmaker's dummy! Freecycle rocks! That's $300 I don't have to spend myself.
Anyway, I got that size issue more or less taken care of .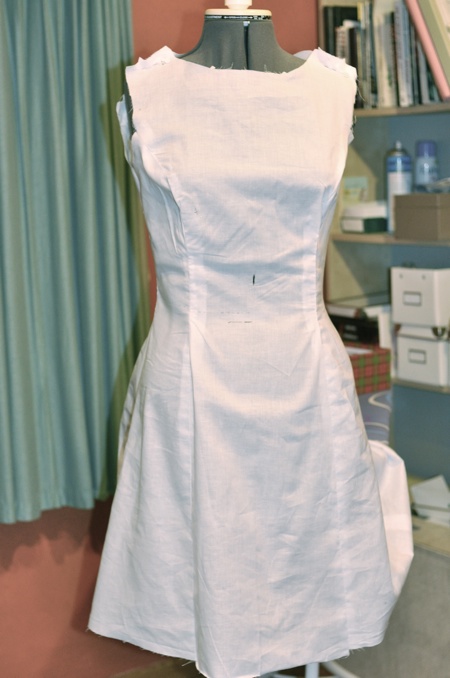 I didn't adjust the hips or the bust yet, as these vary person by person. My person is definitely not the same shape as my dressmaker's dummy! The waist may have to be lengthened or shortened, the bust point lowered, etc etc etc. For the fine-tuning, we'll wait for our in-person fitting.
I sent L an email with pics, so she can tell me what she wants changed with the neckline, sleeves, etc.
In the mean time, I fiddled.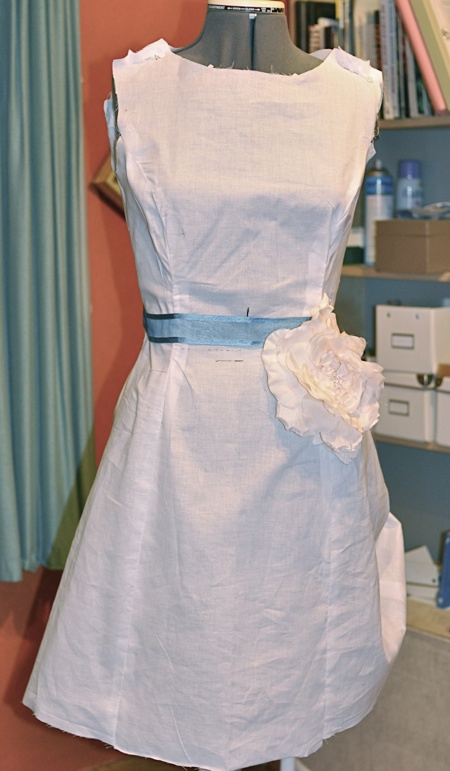 That silk peony is from a box of recycled bridal materials that my crafty friend Kori gave to me when she moved away (sniff, sniff). Hooray recycling!
I don't know what the details are going to be yet; I don't know how we're going to transport this dress from "dress" to "Wedding Dress" as her sister put it… If I'll get to work with pearls or sparkles or simply heirloom details like pintucks, but I do know I'm going to have fun making it happen.