Marshmallow-tailed bunnies!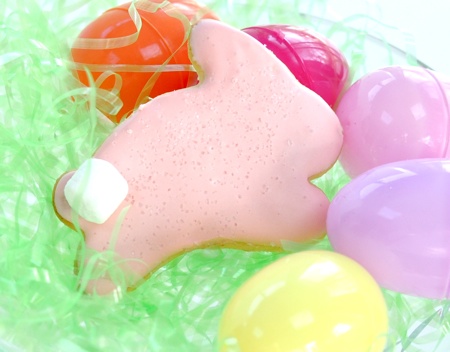 I made a big batch of sugar cookies for the Mom's Club Easter Party, which sadly got promptly put in the freezer after the party was postponed due to last week's freak snow storm. I just heard today that the party has been cancelled, so these cookies again saw the light of day and we got a sweet, pretty little dessert with our post-egg-hunt dinner.
This is my favorite sugar cookie recipe, adapted a tiny bit from a good friend of mine. It's very forgiving of being overworked, and so lends itself very well to cutouts (and especially cutouts made with small people for partners). It's buttery and soft, crispy just on the edges… perfect.
Debbie's Sugar Cookies:
3/4 cup soft butter
1 cup sugar
2 eggs
1 teaspoon almond extract*
1 teaspoon vanilla extract
2 1/2 cups flour
1 teaspoon baking powder
1 teaspoon salt
1 tsp orange or lemon zest, optional
*I actually think the Princess Flavor emulsion from King Arthur Flour is the perfect match here.
Preheat oven to 350F.
Cream the butter & sugar. Add in eggs 1 at a time, then extracts. Mix up dry ingredients separately, add in slowly but do not overmix. Chill 1 hour. Roll 1/8″ to 1/4" thick on very well floured surface. Bake 6-8 min, or until golden just on the edges, on parchment or silpat.
I made a royal icing and dipped the cookies (the yellow ones I filled with the traditional pipe & flood method, and they did not look nearly as good), smearing off the excess with a spatula.
2 tbsp meringue powder
1/8 teaspoon salt
3 cups sifted confectioners' sugar
1/3 cup cool water
1/4 tsp vanilla
Beat all till nice and thick. Divide the cookies in three groups and dip the first third in the white royal icing first, sprinkling the sparkling sugar and attaching the mini marshmallow tails while the glaze is still wet. Add yellow and do the next third of the cookies, then plenty of pink (the yellow will disappear).
Promptly eat twelve of them and plan to feel sick all the next day.