We ran out of Quaker Oats Instant Oatmeal packets – one of Sofía's regular breakfast staples – the other morning. Little paper packets full of mostly-sugar and fake flavorings that microwave up to an appetizing gray mush. Yum.
They really aren't that high in calories, even given that they are mostly sugar, and I thought I'd just buy some more because, meh, oatmeal couldn't possibly be that bad for you, could it? But just look at the ingredients list for the Maple Brown Sugar flavor:
WHOLE GRAIN ROLLED OATS, SUGAR, NATURAL AND ARTIFICIAL FLAVOR, SALT, CALCIUM CARBONATE, GUAR GUM, CARAMEL COLOR, NIACINAMIDE*, REDUCED IRON, VITAMIN A PALMITATE, PYRIDOXINE HYDROCHLORIDE*, RIBOFLAVIN*, THIAMIN MONONITRATE*, FOLIC ACID*.
Not all those things are bad for you (though who knows what goes into their "artificial flavors") but do you really need that many ingredients to make oatmeal? Why so processed, Quaker?
Maybe you prefer "Blueberries and Cream" flavor? In addition to all those chemicals above, add in even more:
BLUEBERRY FLAVORED AND COLORED FRUIT PIECES (DRIED FIGS, DRIED CORN SYRUP SOLIDS, MODIFIED FOOD STARCH, SUGAR, DEXTROSE, GLYCERIN, BLUEBERRY JUICE CONCENTRATE, PARTIALLY HYDROGENATED VEGETABLE OIL [SOY AND/OR COTTONSEED]**, ARTIFICIAL BLUEBERRY FLAVOR, CITRIC ACID, BLUE 2 LAKE, RED 40 LAKE), CREAMING AGENT (MALTODEXTRIN, PARTIALLY HYDROGENATED SOYBEAN OIL**, WHEY, SODIUM CASEINATE), SOY LECITHIN.
Did you get that? Not blueberries, but blueberry colored fruit pieces made with corn syrup, glycerin, oils and food coloring. Not actual cream, but a creaming agent of hydrogenated oils (hello, cancer!) and other pseudo-food chemicals.
Do I really want Sofía eating these? Couldn't I just make them at home instead, simpler, from closer-to-whole-foods ingredients?
You know, these packets weren't always among Sofía's accepted breakfast foods. There was a time that she thought they were way too sweet, and made Josh sieve out the sugar before she would eat them. Back when her tastebuds were better adjusted to natural levels of sweetness. She got used to the sugar though, as kids do as they are more exposed to candy, etc.; and now she loves them. So I had to make sure that my alternates would taste just as good.
Oats, sugar, salt, and random processed junk. Surely I can do better than that.
I can darn well try.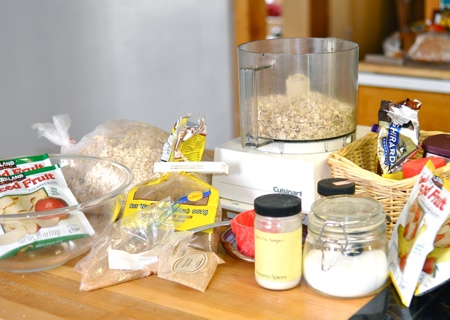 This recipe makes three flavors in 24-27 individual 1/2 cup servings.
First you make the powder, that which gives the oatmeal its "instant" quality. Without this, the oats won't cook as fast. Note: Next time, as the whole oats were still a bit chewy, I might even go so far as to process all 10 cups of the oats together until halfway degraded, then remove 6 cups and process the powder mix from what's left.
Process til fine:
4 cups regular old-fashioned rolled oats
4.5 teaspoons salt (we like things a bit salty. If you don't, or if you're watching your sodium, add less here and adjust later. It doesn't matter.)
1 cup dry milk, whole if possible (as a kid "Nido" – find it in the Hispanic aisle usually – used to be my favorite. It's the only powdered whole milk I've found, but it does contain some soy lecithin.)
1 cup brown sugar
1/2 cup white sugar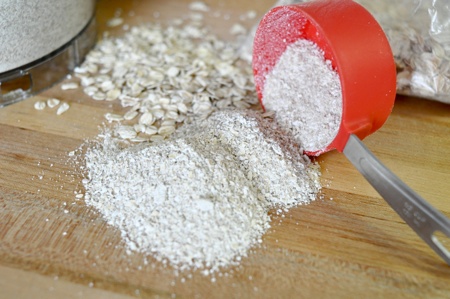 Mix in remaining 6 cups whole oats. This is your base oatmeal "template." Using a cup measure, divide mix evenly among three bowls. From here, we start flavoring. Mix the following well into their individual bowls.
Strawberries (or any fruit) and Cream
1 ounce freeze dried strawberry  slices, broken very small (Or any fruit. Freeze-dried gives the best crunch and keeps the longest, but you can use dried if you must. We had Costco-sized freeze-dried snack-packs on hand, so we used those.)
1/4 cup vanilla sugar (white sugar with the seeds of half a vanilla bean ground in) OR 1/4 cup white sugar with 1/2 teaspoon vanilla extract mixed in
1/2 cup dry milk
2 teaspoons vanilla extract (yes, even if you used it above)
Maple and Brown Sugar
1/3 cup grade B maple syrup (mix it in first with a spoon, and then use your hands to better divide the big syrup clumps evenly among all the oats).
1/4 cup dark brown sugar
2 tablespoons maple sugar (or more maple syrup if you don't have this concentrated mapley goodness to hand. I only had it because I bought it years ago for topping maple scones, and had never used it.)
Apple Cinnamon
1 ounce freeze dried apple slices, broken very small (Again: Freeze-dried gives the best crunch and keeps the longest, but you can use dried if you must. We had Costco-sized freeze-dried snack-packs on hand, so we used those.)
1 3/4 teaspoons good cinnamon
1/4 cup cider syrup, optional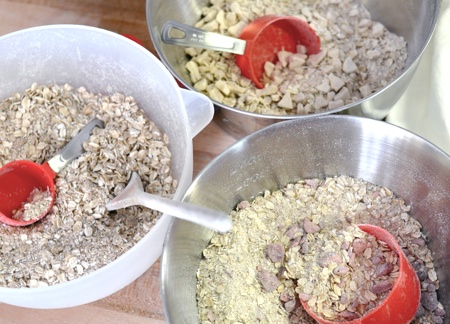 Mix all ingredients in each bowl thoroughly and, using a 1/2 cup measure, scoop into individual ziplock snack bags. Try to keep the ratio of large to fine more or less the same, so you don't end up with some packets that are pure whole oats and some that are pure powder.
Sofía and I had great fun testing and retesting these for flavor, let me tell you! In fact, we pretty much had an oatmeal lunch. (Protein? What protein?) If you want to test it yourself, before bagging pour a couple tablespoons into a dish with maybe 1/4 cup water. Stir and microwave for 30 seconds, then adjust seasonings and flavorings to your liking.
Store baggies in recycled containers. Nuke as you normally would any instant oatmeal packets, saving the bags for another batch.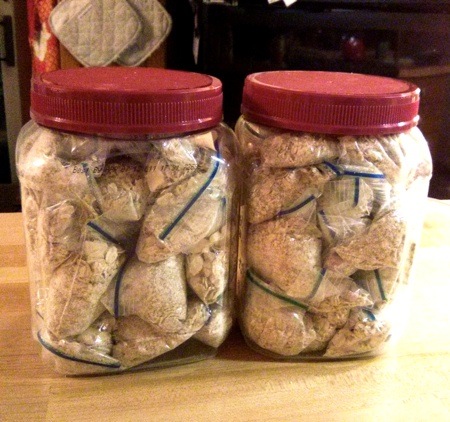 Caveat: If you don't go through these at the rate of least one per day, or if you had to use dry fruit instead of freeze dried, keep these stored in the freezer. Without preservatives, the additional moisture could lead to mold. Being frozen should not affect the cooking time.
So did we succeed? I think so. Sofía got to taste each flavor and adjust it to her liking, plus stirring everything and helping to break up the fruit, which means she will actually eat them when the time comes. Probably.
Because these are homemade and chemical-free, are they a health food? A resounding no! from my end of the court – just look at all that sugar! – and (probably) a yes from Josh. Meh. They have less sugar than her previous ones; maybe with the next batch we can lower the sugar even more, weaning her gradually off sweet breakfast treats. Even so, Sofía and I had fun making these together and I feel ok about giving them to her in the morning; especially if accompanied by some protein. And I'm calling that a mission accomplished.
I invite you to taste, adapt, change these to your liking and share back here!