My girls are doing great!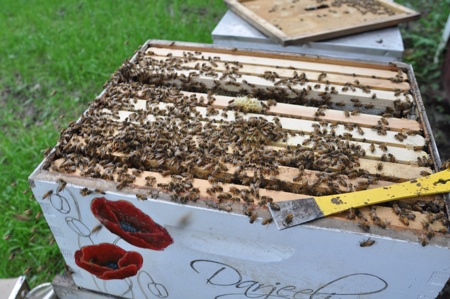 No sign of small hive beetle – though the girls seemed a bit tetchy so I pulled only two or three frames for inspection. Those nasty beetles could be (probably are) still there, but if I didn't see them running they are under control at the moment. I also saw no larvae.
We've got a very good queen here!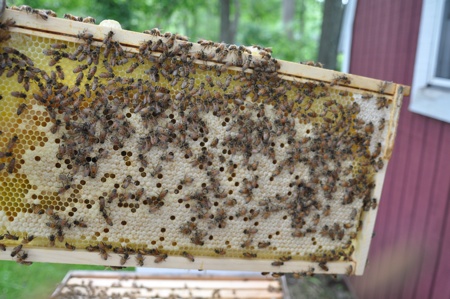 Before the bee inspection, I put an entire (unoccupied!) shallow super (shallow, to lessen the territory the bees have to defend), complete with last year's frames and foundation, into my oven at 170*F for half an hour, hoping to kill any residual SHB eggs. I've never heard of anyone doing this, so I have no idea if it works… but it seems better than nothing. Wish I would have left it to bake longer, but I didn't have time today.
I have also heard of putting bee equipment in the freezer for 24 hours to kill the eggs, but there are conflicting reports on whether that really works or not.
Baking the box sure made the house smell beautiful. There is no smell quite as good as that of natural beeswax. Baking bee hives probably isn't likely to catch on as the next most popular air freshener, though. A bit bulky, and heavy on the dead bees.
Up it went on top of the brood deep.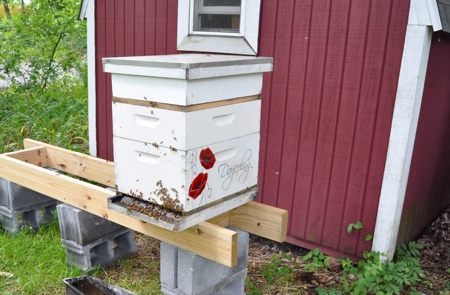 Congratulations, Darjeeling, you've graduated to a 2-box hive! Now please… please… kill those nasty beetles and survive so I can have honey next year.
A friend brought up splits this morning and got me thinking. Is it possible, since I am not hoping to harvest honey from these guys this year (because I've been feeding them syrup), I could make a split from them instead? Could I take the shallow box off the top of Darjeeling (once it's full of brood) and set it up as a second colony?
I don't know if a) a split has to be done at a certain time of year or b) if using a shallow would work – most people do splits with full frames in half-narrow boxes (called 'nucs', which I don't have). Anyone have any tips?