What with the garden rendering hauls like this just about every other day…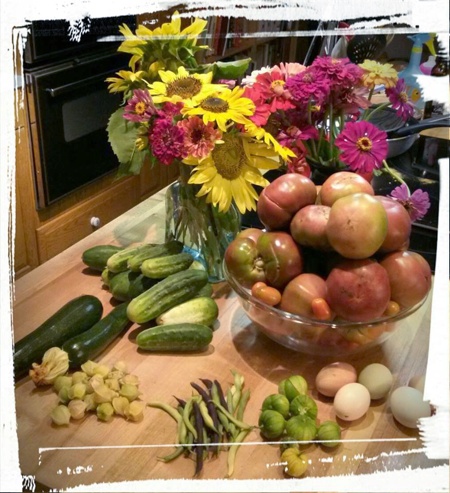 It was time to start up the canner!
Those are only 1/4 of the tomatillos I got, and boy howdy, my jalapenos are going like gangbusters. I have no idea what I'll do with them all – try to sell them, I guess! Or maybe smoke them and can them up as chipotles… hm… now there's an idea.
All those tomatillos went into the blender along with a good number of jalapenos, onions, cilantro, and garlic, along with some cumin and oregano and lime juice, to make about five pints of salsa verde.
The red tomatoes went here with some more jalapenos, etc: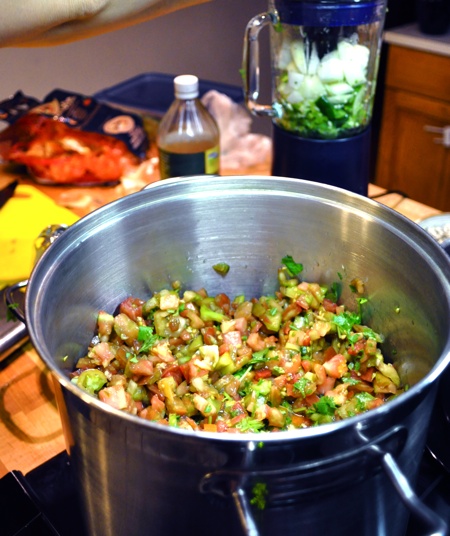 And they ended up making a good 15 pints of pico de gallo salsa – that's almost two gallons! – plus two quarts of the piquant salsa juice, which I use for bloody marys or stock.
I did myself a favor this time and bought pre-minced garlic. I know, I know! When I have strings and strings of homegrown garlic in the basement. But I just didn't feel like messing with it all… and I'm glad I didn't. My perfectionist side is slowly coming to the realization that it's ok to cut corners sometimes.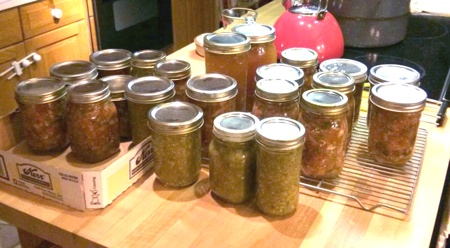 And I think that'll do us for salsa for the year. Maybe another small batch later on… or maybe I'll focus on crushed tomatoes or sauce. We're completely out – used up our last quart a week or so ago. I'm sad to be out but proud I timed it just right.
Now if only I could remember how many quarts I put up last year… that'd give me a number to shoot for this time around. I have got to start keeping better records!