I can't believe I forgot to tell you all about my last huge project! But the photo in the last post made me realize that I never did post about it. Well, remember the southern slope of Backfill Hill, where I have a few grapevines?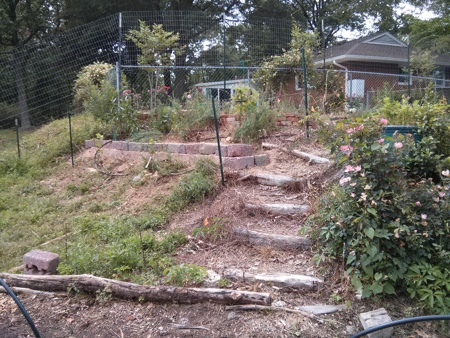 I got one retaining wall put in back in like 2013, but then I ran out of donated waste block (tail ends of projects from a landscaping company) and had to leave the rest of the slope as is.
That slope was a real problem in terms of runoff, erosion, and maintenance – a little too steep to mow with the mower, and treacherous footing when working with the weedeater. Unplantable due to erosion. I knew it would have to be terraced on contour to catch water and provide planting space, but I didn't want to pay for all the landscaping block it would take. And in the mean time it kind of got forgotten.
But Sofía became more and more interested in having her own little garden; she was happy with a little spot I gave her for a couple years, but since it was among fruit trees it quickly became too shaded. She begged and begged me for a spot where she could grow tomatoes, but I didn't have any space to spare. Unless…
Sometimes things work out just right. A couple days after I started pondering how to make it work, someone posted the solution on Freecycle – a long fence made out of concrete "logs" that the person wanted taken away. (They had been concrete formula tests originally, a long time ago.) My darling husband made trip after trip after work with our dinky little pickup to bring them all home, and I started working on Sofía's garden bed.
She helped me – a little bit – excavating the trench and learning about leveling.
We finished it on Mother's Day!
Two new terrace beds – three if you count the one at the bottom – of free materials kept out of the waste stream. Sofía has her very own little garden now, where she planted about three dozen snapdragons and – you guessed it – tomatoes.
My next major infrastructure project is with the bed on the right –  you can see pink roses there in the photo. I can't wait to tell you all about it, but it's still in the planning stage at this point. All I'm gonna say right now is that it involves building with beer bottles! I don't think anything makes me feel better than finding new uses for what would otherwise be filling a landfill.